text.skipToContent
text.skipToNavigation
Safety Overview
The quality mission of The Chamberlain Group LLC is to exceed the expectations of our customers by providing exceptional products and services. We put quality at the forefront of everything we do, understanding that each of us is accountable and committed to continually improving the effectiveness of our Quality Management System and achieving quality objectives. We will always provide training, processes and systems that ensure compliance with quality requirements and produce customer satisfaction.
Compliance Certificate
In today's world, security, safety, and convenience are more important than ever. As the industry's largest manufacturer of garage door openers Chamberlain® knows what you want in a garage door opener.
That's why we offer exclusive features that you won't find in other manufacturer's garage door opener models. We believe that every garage door opener we manufacture will exceed your expectations. As a matter of fact, Chamberlain Garage Door Openers have created a whole new standard for the industry with the most updated security, safety, and convenience features.
To ensure the highest degree of safety and customer satisfaction, we believe it is important that garage door openers manufactured prior to 1993 be replaced, as opposed to being repaired. Learn more about our position on pre-1993 openers by selecting the next topic from the menu.
To learn about the safety and security features of Chamberlain garage door openers, please click on the link below. To view our CPSIA compliance certificate, click here.
Position on Garage Door Openers Manufactured Prior to 1993
We are committed to the highest standards of product safety. Over the years, the Chamberlain® brand has led the industry in introducing innovative product safety features. As a company, we have manufactured garage door openers for 50 years with a safety record that ranks as one of the best in the industry.
In the early 1990s, the Consumer Products Safety Commission (CPSC) enacted into law new rules ensuring that all garage door openers manufactured after 1992 had external entrapment protection devices, such as infrared sensors or sensing edges, in addition to the internal contact reverse mechanism. Garage door openers made prior to 1993 are safe and reliable if installed, tested, and maintained properly. However, the vast majority of these older units are not equipped with infrared sensors or other external entrapment protection devices, and thus do not meet today's standards for garage door opener safety. To ensure the highest degree of safety and customer satisfaction, we believe it is important that pre-1993 garage door openers are replaced, as opposed to being repaired.
In 2008, Chamberlain made the decision to stop supporting the repair of all pre-1993 Chamberlain garage door openers, this includes technical service support and the sale of replacement parts. We believe this decision will provide you with the latest in technology and more safety, security, and convenience features. Chamberlain will not be responsible for warranty or liabilities incurred as a result of someone repairing a pre-1993 (non-infrared or safety sensing) garage door opener.
We believe this decision is in the best interest of our customers, as safety always comes first.
We comply with the State of California's Proposition 65
Proposition 65 helps Californians make informed decision about their exposures to chemicals. The Chamberlain Group complies with Proposition 65. For more information, visit the official website at www.P65Warnings.ca.gov
California Senate Bill 969
On September 21, 2018, California Governor Jerry Brown signed Senate Bill 969 into law. This legislation requires newly sold or installed garage door openers in residential applications in California to have battery backup beginning July 1, 2019.
California had its most destructive fire season in 2017 with widespread power outages that made it difficult and/or impossible for some to escape. When loss of electricity occurred, garage door opener operation was impacted and deaths were attributed to homeowners becoming trapped because they were unable to open their garage door manually.
What You Need to Know
This law applies to new garage door and garage door opener installations in California residences. Homeowners will need to install a battery backup opener when a new door is installed or when they replace their existing opener. Existing openers currently in use will not need to be replaced with battery backup openers unless the door is being replaced. If it is time to replace your opener before July 1, 2019 we recommend replacing with a battery backup opener to ensure compliance with the new law.
On or after July 1, 2019, no person, corporation, or entity shall manufacture for sale in California, sell, offer for sale at retail or wholesale, or install in California a residential automatic garage door opener that does not have a battery backup function that is designed to operate when activated because of an electrical outage. Failure to follow this will result in a civil penalty of $1,000 per opener installed and operational.
Chamberlain Compliance
Safety is our number one priority. In anticipation of this new law, Chamberlain is offering a comprehensive battery backup Garage Door lineup. All battery backup openers sold for installation in California include an integrated battery to ensure the full solution is installed in the garage.
All garage door openers that are compliant with SB-969 will be featured in Chamberlain communications with this icon: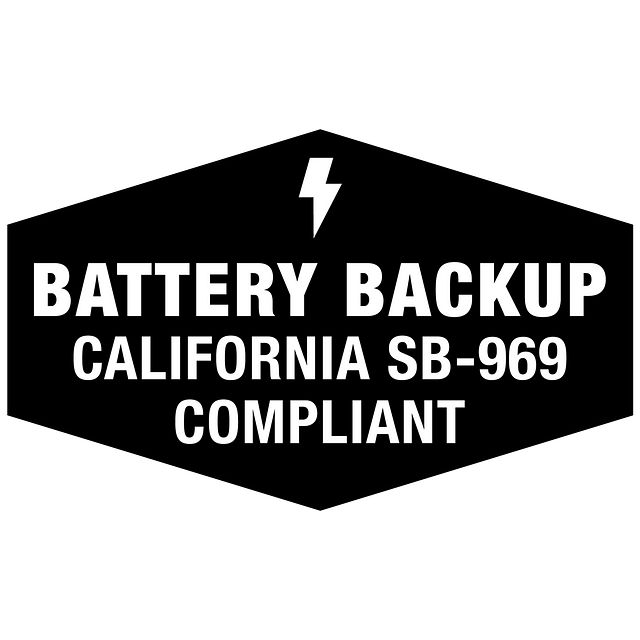 For Frequently Asked Questions (FAQs) on California SB-969, click here.
To see what Chamberlain Garage Door Openers are already SB-969 compliant, click here.
The State of California has not endorsed these or any other garage door openers.