text.skipToContent
text.skipToNavigation

search

B6753TCMC
SECURE VIEW™ CAMERA ULTRA-QUIET LED WI-FI BATTERY BACKUP GARAGE DOOR OPENER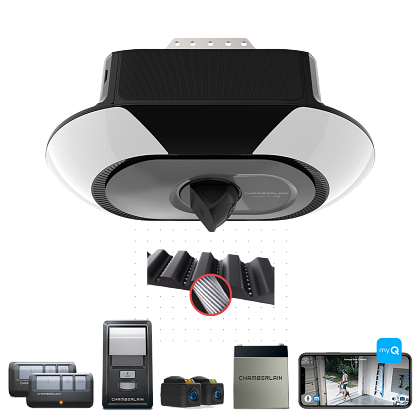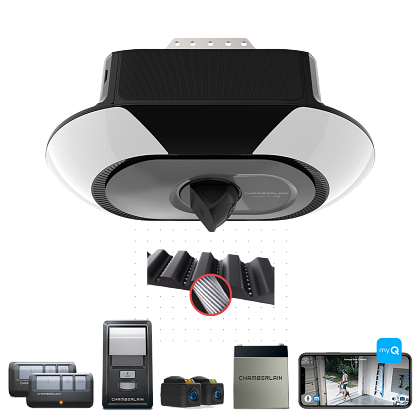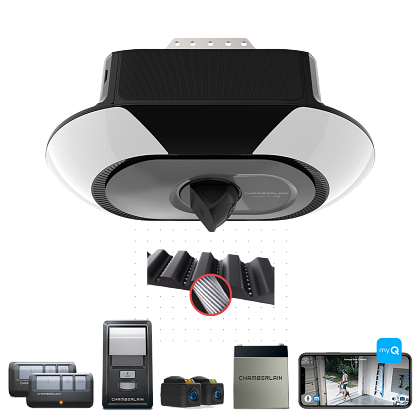 B6753TC
SECURE VIEW™ CAMERA ULTRA-QUIET LED WI-FI BATTERY BACKUP GARAGE DOOR OPENER
Built-in camera: 130⁰ wide angle camera lets you see and hear what's happening in your garage through the myQ® app.
Smartphone control: Control, secure and monitor the garage with the myQ app- anytime, from anywhere.
Integrated Corner to Corner™ LED lighting: Uniformly brightens every corner of the garage, motion activated, 2,000 lumens.
Quiet operation: An ultra-quiet DC motor and belt drive system ensures for comfortable living spaces near the garage.
Overview
Features
Secure View™
Live Streaming and Video Storage
View live-streaming video from your garage for free.
Add a myQ Video Storage Subscription to record and save videos for up to 7 or 30 days.
2-Way Audio
Communicate in real time between your garage and your smartphone.
HD-Quality Video
1080p, glare-resistant, night vision lens auto-adjusts to light levels in the garage to capture everything and anything that passes through the garage.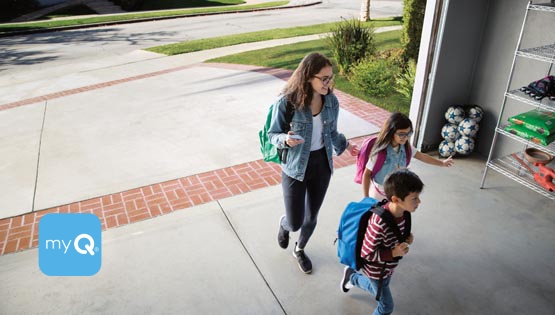 Home Connectivity with myQ
Easily Connect
Easily connect to a home network with built-in Wi-Fi®.
Receive Alerts
Receive alerts and open or close your garage door on your smartphone.
Schedule to close
Set a recurring schedule to close your garage door or turn your lights on/off.
Syncs with
Sync with popular smart devices and platforms.

Learn more about the free myQ smart home app.
Power
Lifting Force 1-1/4HP
Handle extreme conditions and heavier doors with a lift force equivalent to 1-1/4 HP*
Battery Backup
Get in and out when the power's out with Battery Backup. Meets California SB-969.
*For comparison purposes only; lift capacity similar to 1-1/4 or 3/4 horsepower AC motor. Lift capacity of DC motors is typically not measured in horsepower.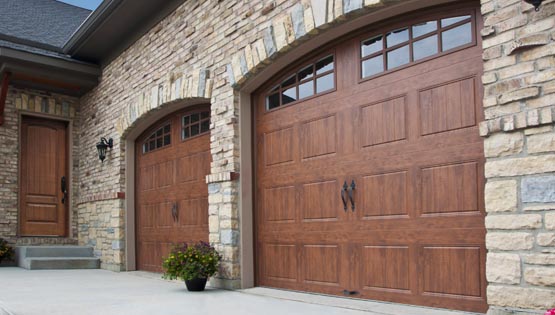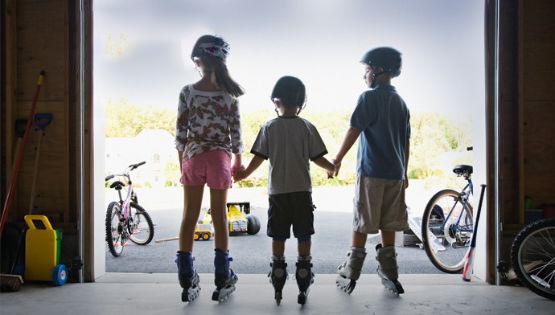 Safety and security
Video Camera
Integrated camera enables you to see what is happening in your garage through a live feed or recorded event.
Safety Sensors
Protect people and vehicles with safety sensors that stop the door from closing on obstructions.
Specs
| | | | | | |
| --- | --- | --- | --- | --- | --- |
| Lighting | Integrated 2000 Lumens LED | | GDO Learn Button Color Compatibility (Learn Button Color ) | Yellow | |
| Drive Type | belt | | Motor Power | 1 1/4 HP | |
| AC / DC | DC | | Battery Backup | Yes | |
| Security / Lock | No | | Smartphone Control | Yes | |
| Soft Start / Stop | Yes | | Timer To Close | No | |
| Code Type Compatibility | Security + 2.0 | | Video | Yes | |
| | | |
| --- | --- | --- |
| Lighting | Integrated 2000 Lumens LED | |
| GDO Learn Button Color Compatibility (Learn Button Color ) | Yellow | |
| Drive Type | belt | |
| Motor Power | 1 1/4 HP | |
| AC / DC | DC | |
| Battery Backup | Yes | |
| Security / Lock | No | |
| Smartphone Control | Yes | |
| Soft Start / Stop | Yes | |
| Timer To Close | No | |
| Code Type Compatibility | Security + 2.0 | |
| Video | Yes | |
Warranty
Accessory Warranty: 1 Year
Belt Warranty: Lifetime
Motor Warranty: Lifetime
Parts Warranty: 5 Years
What's included
Installation & Support
Replacement Parts
041-0205-000

Not shown on diagram

041-0180-000

Not shown on diagram

041-0136

Not shown on diagram

041-0155-000

Not shown on diagram

041A5250

Not shown on diagram

K144C0054M

Not shown on diagram

004A1008

Not shown on diagram

041A5665

Not shown on diagram

041C5141-2

Not shown on diagram

041D0598-1

Not shown on diagram

041A6689

Not shown on diagram

041B4103

Not shown on diagram

041A7276

Not shown on diagram

041A7920-2

Not shown on diagram

041B0035B

Not shown on diagram

4178B0034B

Not shown on diagram

041A5047-1

Not shown on diagram

041A5047-3

Not shown on diagram

K012B0776

Not shown on diagram

041A2828

Not shown on diagram

041B4494-1

Not shown on diagram

K029B0137

Not shown on diagram

K010A0020

Not shown on diagram

041A7327-1

Not shown on diagram
How to Assemble and Install a Chamberlain Belt Drive Garage Door Opener
How to Set Up a Chamberlain Secure View WiFi Garage Door Opener in the myQ App
How to Test the Safety Reversal System of Your Chamberlain Garage Door Opener